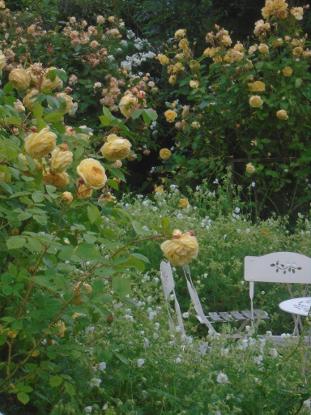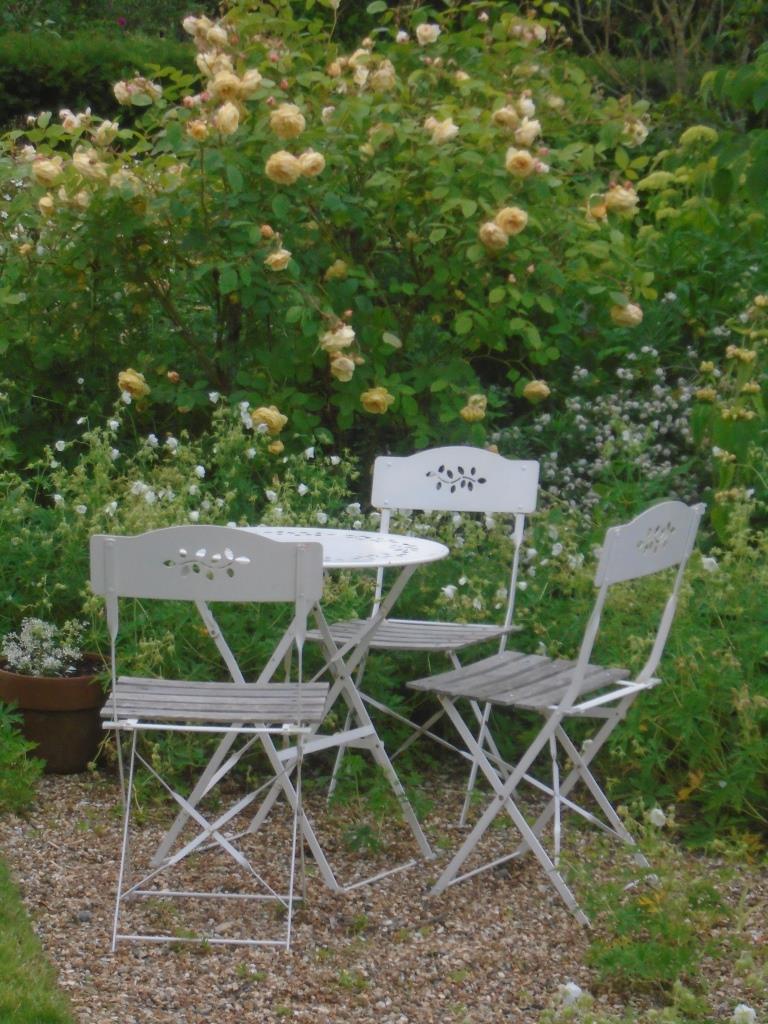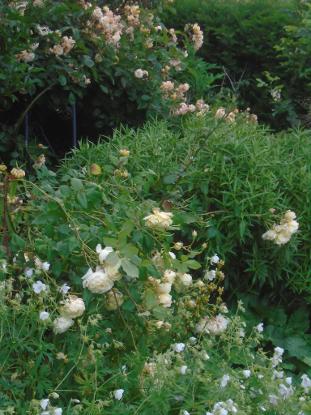 About the Yellow Garden
Purpose
The yellow garden was originally created as a place to sit, eat, read the paper, shell seeds, brush the dog - a calm sensible everyday place in contrast to the theatre of the rose garden. It is also a corale for anything yellow that I felt should feature in the garden but that I could not bear to place in line of sight of anything pink. It is enclosed by evergreens on all sides to ensure both pinks and yellows are kept at a safe distance from each other. When the gardens first opened to visitors in 2012 it seemed the obvious place to serve tea and cakes, so it is slowly morphing into a tea garden. I am currently mulling over a new yellow garden design, working with the mature roses and shrubs and the existing colour scheme but better suited to the wear and tear of garden visitors. Progress reports will appear in the yellow garden so have a look during your visit if you are interested to see how it's coming along.
Contents
The roses here are mostly hybrid musks, David Austin hybrids and albas, and the flowering shrubs include philadelphus, lilac and buddleja, all surrounded with perennials in shades of white and yellow. As yellow rose bushes are largely a 20th century development, most of the roses here are repeat flowering varieties, and this extends the rose flowering season into August and September. There is an old bomb shelter in the southwest corner, which I find adds great perspective when feeling overwhelmed.
History
The site of the yellow garden initially contained a large hut and two big mounds of flinty subsoil. The beech hedge had not been trimmed for around 30 years so the first thing to do was to chop the beech hedge to a sensible height and allow the lower trunks to bush out. The yellow garden was laid out in September 2003 at the same time as the rose garden, and planting was completed in spring of 2004. Below are some photos taken before and during the yellow garden's early days.
Peak Season: June/July
June is a good time of year in the yellow garden as all the roses are in full bloom, the lilacs are flowering and most of the perennials are contributing colour and texture. In July the philadelphus and buddleja join the show as the roses die down. There is usually a good second flush of roses in late August and early September, accompanied by phlox, leucanthemum and echinops. Below are some pictures of the yellow garden taken in June 2016.