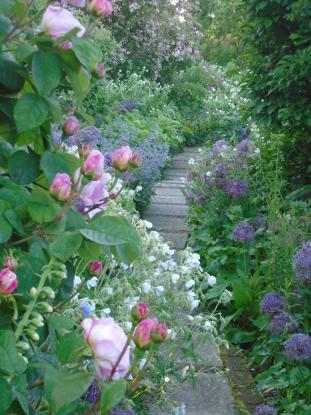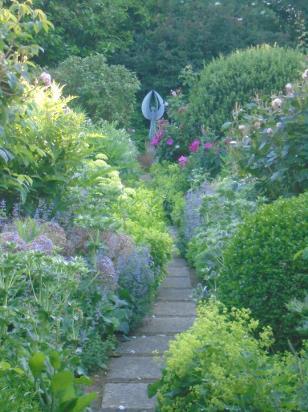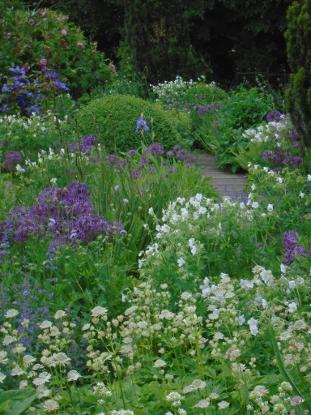 About the Rose Garden
Purpose
This is a rose gallery, like an art gallery, where the pictures are the roses themselves. It is an opportunity to get really close to a wide range of rose blooms while at the same time seeing their effect en mass and in combination with each other and the surrounding perennials, bulbs, climbers and shrubs.
Contents
Three concentric curved paths cross four long straight ones radiating from a single point, dividing the fan-shaped space into nine separate beds in a range of sizes and creating four long straight views to an angel sculpture and three curved paths that reveal new views as you walk along their length.
There are over 80 different varieties of rose here, mostly grown in clumps of three matching plants, and with the exception of some modern David Austin varieties, they are all old varieties of gallica, centifolia, bourbon, damask, hybrid musk, moss, alba, rugosa, and noisette. All the roses are labelled with name, family and date of introduction, and they flower within a wider tapestry of colour and texture provided by herbaceous perennials, irises, clematis, bulbs and flowering shrubs.
History
The rose garden started out as rough ground with grass, thistles and nettles, and with one lone box tree, which has been retained and stands in the centre of the wall bed. The hard landscaping was laid out at the same time as the drive wall was constructed in late summer of 2003. Planting began in September of 2003, and it was complete by March 2004. The pictures below show how the rose garden looked during constuction and in its early days.
Peak Season: June/July
The flowering time of roses is highly dependent on the weather, however their peak flowering season is usually mid June to mid July. A minority of the roses repeat flower, but as the majority of them are old fashioned varieties, rose lovers should try to visit during the peak season. The downside of growing so many once flowering old fashioned roses so close together is that after flowering the rose garden turns into an untidy jungle of new stems and its these new stems that are trained into place the following December to produce the best flowers in midsummer, so every year the rose garden goes from being the belle of the ball to something of a pumpkin by late summer! The gallery below shows photos of the rose garden taken across the summer of 2016 from May to September: