2024 NGS Open Days
The garden will be open between 2pm and 6pm on the following dates:
26th May, 9th and 23rd June, 7th and 21st July
Photos are posted daily throughout the summer and you can see what was in bloom on previous open days at This Morning's Garden Photos.
Admission is £6.00 per adult and children under 16 are free. Children must be accompanied by an adult at all times. Sorry no dogs, and not suitable for wheelchairs or push chairs due to the narrow paths.
You can pay by cash on the gate or by card in advance on the NGS website here:
Other Contacts
Angel sculpture in the rose garden is by Pete Moorhouse:
Sculpture of Abigail the Irish Wolfhound is by Zenos Frudakis:
Metal delphinium supports throughout the garden are from:
Thank you to students Clara and Ariel for this link to useful tips to help breeding birds in your garden:
www.gardenbuildingsdirect.co.uk/blog/bird-friendly-garden-breeding/


Contact
Carol Bruce
Old Bladbean Stud
Bladbean
Nr Elham
Canterbury
Kent CT4 6NA
carolhannahbruce@sky.com
Bladbean is located in the Kent Downs Area of Outstanding Natural Beauty and as such it falls under the protection of the AONB's work to preserve the authentic rural character of treasured landscapes in the UK. Please visit the Kent Downs AONB website for more information: http://www.kent-downs.org.uk
The gardens are part of the Our Land scheme to promote environmentally responsible and landscape-sensitive activities for visitors to Areas of Outstanding Natural Beauty. For more information about the Our Land scheme and to find other recommended places to visit in the Kent Downs AONB, please see the Our Land website: www.our-land.co.uk/holidays/kent-downs
Getting Here
Bladbean is a tiny hamlet in the heart of the Kent Downs AONB and is reached via beautiful but narrow country lanes from all directions. Recommended approach routes for garden visitors have been chosen as those least likely to meet on-coming traffic.
On NGS Open Days:
Follow the yellow NGS signs from Stone Street (B2068) through Stelling Minnis or from the Elham Valley road just north of Elham. There is signposted parking directly opposite the gardens.
For Private Group Visits:
Printed directions will be sent in advance by post.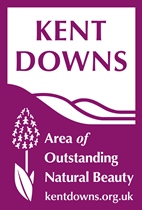 Copyright Carol Bruce 2019