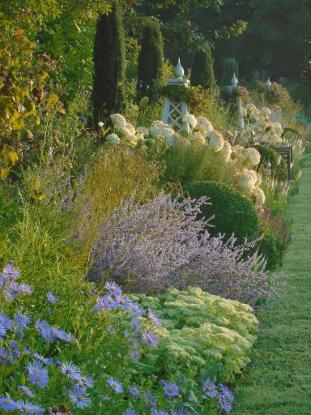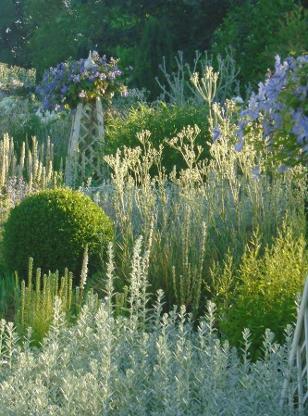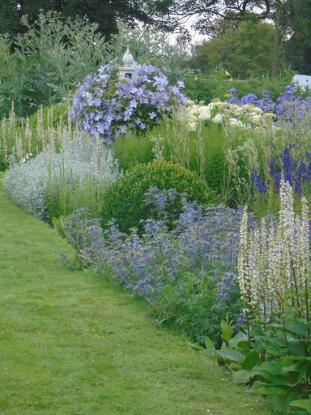 About the Double Mirrored Borders
Purpose
This is the most recently created garden and as the last piece of the puzzle it was designed to serve several functions simultaneously - it has to connect the other garden areas, make visual sense of a very long and narrow space whereby both near and far views must seem related, and at the same time make the viewer want to walk to the other end, which is the access point to the fruit and vegetable garden. This garden is almost 300 ft long, and it is this length that creates the opportunity to use perspective and repeat as the backbone of the design.
Contents
There are two lines of symmetry in the planting - one running through the centre of the stone benches, and one through the wooden benches. This means that every plant appears four times, and as far as nature will allow, both sides and both ends are perfect mirrors of each other. There are three plants that define a journey along the length of the beds - bearded irises, clematis and delphiniums - as these start off at the far ends in shades of white/near white, then darken in colour through mid to deepest blue at the centrepoint behind the wooden benches. The colours and textures of the plants have been chosen to respect a third, horizontal line of symmetry by relating to the blue, white and silver colours of the sky.
History
The mirrored borders and the fruit and vegetable garden are laid out on either side of a new wall, which was built on a long thin stretch of rough grassland in the summer of 2008. The stone benches were assembled in that autumn and we laid the soil and seed for the lawn in the spring of 2009. Planting the beds began in autumn 2009 and was complete by spring of 2012. Below are some images taken before and during its construction.
Peak Season: Late May through to Early October
This garden starts to look its best in late May and early June when the irises flower, and the colour scheme is carried through by delphiniums, aconitums and campanulas, and then by verbascums, echinops, sanguisorbas, romneya, eryngiums, leucanthemums, phlox, cardoons, liatris and finally sedums and asters in September and early October. Iris lovers should try to visit during late May and early June, otherwise the character of the beds is maintained until early autumn. The gallery below contains photos taken across the summer of 2016 between May and October.